Buy mini PC or notebook
This miniPC with dual monitors and a matching bracket looks tidy and is about the same cost as one 14"/15" Laptop alone, with the same performance. There are other advantages:
Costs, more digital workspace with approximately the same acquisition costs, further cost advantages when replacing components

Longevity, component design, easy upgrade or replacement of monitor, hard drive, mainboard, CPU, fan in the event of a defect

Space-saving, MiniPC (with dimensions 215x200x55 mm) does not take up its own work surface, optimal cleanliness / cable management with monitor holder above the desk

Comfort, fanless, can be adjusted in height, distance, inclination, better integration with normal keyboard

In terms of portability, laptops and tablets are of course irreplaceable. Our product is intended to provide an ergonomic working environment. It can often be observed that a laptop (closed) is connected to 2 larger monitors via docking station, but there is hardly any free space on an actually large table because of the many cables and devices on it.
The measurements show that MiniPCs with an external power supply, do not consume more power for the same performance, and there is no power loss due to battery charging. In terms of carbon footprint, notebooks use around 45% more CO2 than mini-PCs, according to the
German Federal Environment study
.
The flexible bracket enables easy assembly for 2 monitors 22" - 27" and 1x MiniPC. We have thought of a tidy cable run and fastening. Existing monitor holder can hold 2 monitors 24" in a stable manner, without screwing.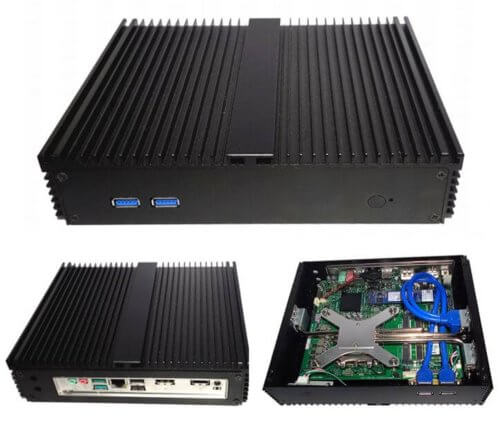 Fanless mini PC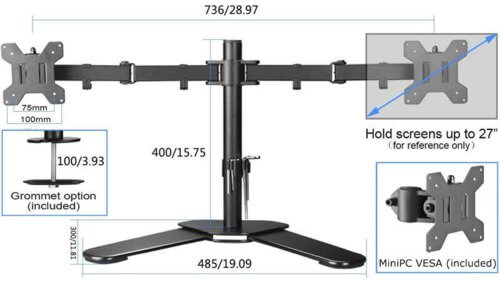 3x VESA mount dimensions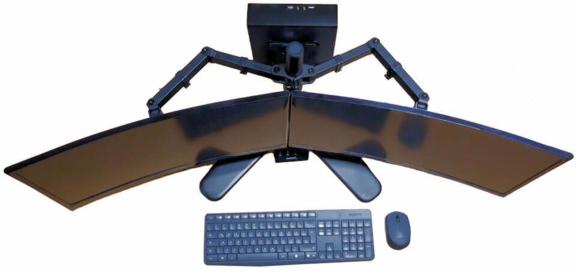 MiniPC with two monitors
MiniPC configurator and prices
The product described below with a small case from Inter-Tech and Asus Business Pro mini-ITX motherboard is exemplary. Other barebones are imaginable like Intel NUC, Zotac Zbox etc.
In any case, you can
configure
this MiniPC with more memory, hard disk or more CPU performance before delivery.
Windows installation via PXE-Boot-ServerIf MiniPC is purchased with Windows 10/11 license it is delivered pre-installed. If you buy without a license, then you need to install an operating system. For larger quantities PXE boot server is a good method for automatic installation.

PXE (Preboot Execution Environment) makes it possible to boot client computers via a PXE server. Almost all computers, such as laptop, thin client, workstation, server with integrated network adapter, can boot via the network.
A computer must be set in the UEFI BIOS (usually with the DEL or F2 key) to boot via network.

An even better and modern way is to use an MDM SaaS service such as Microsoft Intune or Endpoint Manager. With Endpoint Manager, you can automatically install and update your business apps, as well as perform Windows update, deliver firewall and virus protection settings, and much more.


MiniPC default product features
CPU, Intel 12th generation G7400T, optional with I3-12100T
RAM, 16 GB DDR4 3200 MHz SO-DIMM, Max 64 GB
HDD, 256 GB SSD M.2, support PCIe 4.0 x4 & SATA modes
Graphic, Intel UHD Graphics, HDMI and display port for 2 monitors, max. resolution 4096 x 2304@60Hz
Audio, Realtek 7.1 HD audio, audio adapter Y splitter is included for connecting laptop / smartphone headsets
Network, Realtek Gigabit Ethernet
Power, Power supply external 12V 5A, power consumption only 15W (idle) e.g. for Office applications
I/O ports, 1x Display, 1x HDMI 1x RJ45, 2x USB 3.2 front, 2x USB 3.2 rear (4x port hub USB 3.0 is included), 2x audio + 1x 4-pin headset adapter also included
Mounting, behind the monitor holder, prepared for easy attachment (VESA 100x100)
Software, none, optional Windows 10 Pro incl. license or Linux Ubuntu 20.04
Other, Aluminum case with cooling fins, fanless, dimensions 235x2196x54mm, weight 2.2kg color: black, warranty 12 months, max 36 months
The proposed processor I3-10100T is comparable to the laptop CPU i5-10210U, according to
UserBenchmark
a little better.
Write to us,
you can expect an answer on the same or next working day.


Customer consulting
To find out which licence is best for your company and fits your budget, arrange an online meeting with us via
Microsoft Teams
.
The specifics of your existing network will be discussed and taken into account for a possible migration of users and data.
Customer support
For your Office 365 or Microsoft 365 tenant (new or existing), you can count on our support at fair prices. We can use your ticket system or our support
Jira ServiceDesk
, see
Exemplar ticket
.
Microsoft competencies
You will be supported by security experts, for which knowledge is constantly gained and proven by manufacturer certificates. This is a MUST for us to keep out customer support at the highest level and up to date.