Sylbek Business Cloud Support - Hardware for Firewall, WLAN, Desktop
Contents
Cloud Products and Support
Cloud Products and Support
Cloud computing technology improves the competitive situation for small and medium sized businesses as well. Costs remain predictable even if the number of employees changes. All you need is an Internet connection. The monthly costs are often in the range of a cup of coffee.
We can take care in
Microsoft Office 365 Support
so that the same work tools are available to employees, whether in the office, working remote or on the road.
For the security of data, users and devices, we support you by keeping you up to date with the latest technology. You will be looked after by security experts, for this knowledge is acquired and proven by manufacturer certificates see
About Us
.
In addition to
Microsoft Office 365
competencies, we advise and provide support in
Google Workspace
and
Jira Service Desk
, which we use ourselves for transparent customer support. Whether Microsoft or Google cloud products are more suitable for your business?
Those who are undecided can read this comparison:
Google Workspace vs Office 365
.
What is Microsoft 365
The successful product
Office 365
is constantly being extended with additional services and gradually renamed to
Microsoft 365
such as Office 365 Business Essentials to
Microsoft 365 Business
, Office 365 Business to
Microsoft 365 Apps for Business
.
There are Microsoft 365 Business plans for companies up to 300 employees, and Microsoft 365 Enterprise plans, for larger companies, with no limit on the number of users. For Enterprise plans, there is still Office 365 plans, e.g.
Office 365 E1
which you can buy from us starting at 6.40 EUR, see prices below.
An overview of tariffs and prices can be found via Microsoft websites, however we hear from many customers that it is not easy to choose the right Microsoft 365 plan. There are many combinations, Add-Ons and often even tariff names are not clear, or 'complex', so see help below.
Microsoft 365 Business
Microsoft 365 for Business is a comprehensive collection of business productivity and collaboration tools, including Outlook, Word, Excel and other Office products that are always up-to-date.
You can protect your work files on all IOS, Android, and Windows 10 devices with enterprise grade security that's easy to manage. Below you can see some Microsoft 365 Business plans with prices and brief description.
Former Office 365 Business Essentials, entry-level plan for companies with up to 300 employees
MS.Preis: 4.20 € Our price from
4.05
€
Microsoft 365 Business Basic (formerly Office 365 Business Essentials) includes Office 365 web-apps: Word, Excel, Outlook, PowerPoint, OneNote, as well as Exchange, Teams, SharePoint, OneDrive 1 TB
MS.Preis: 10.50 € Our price from
9.99
€
MS.Preis: 16.90 € Our price from
15.99
€
Microsoft 365 Business Premium (formerly Microsoft 365 Business) includes
Microsoft 365 Business Standard
and additionally: Windows Virtual Desktop, AzureAD Premium, Intune, Office 365 DLP and ATP
This offer is directed to companies, all prices are net, per employee, monthly. Please note our
Microsoft Office 365 prices
, approx. 3-5% cheaper with a minimum contract term of 1 month.
Office 365 Enterprise
Office 365 Enterprise plans are designed for larger organizations that need more than 300 licenses. They are also suitable for businesses of any size that have high security, compliance, email archiving requirements.
In addition to Office 365 Enterprise plans, there is
Microsoft 365 Enterprise
, a bundle of many products, includes Office 365 Enterprise plus Windows 10 Enterprise plus Enterprise Mobility + Security. For more information, see
Microsoft 365 Add-Ons
.
No limit on the number of users, around-the-clock phone support from Microsoft, otherwise comparable with business plans
MS.Preis: 6.70 € Our price from
6.40
€
Office 365 E1 includes
Microsoft 365 Business Basic
and is for more than 300 users, more functionality in Microsoft Stream and video recording
MS.Preis: 19.70 € Our price from
18.90
€
Office 365 E3 includes
Office 365 E1
and additionally: Desktop Apps (offline) and Exchange P2, SharePoint P2 and OneDrive P2 with 5 TB
MS.Preis: 34.40 € Our price from
32.95
€
Office 365 E5 includes
Office 365 E3
and additionally: Telephone system and audio conference, Cloud App Security, Threat Intelligence, eDiscovery, Stream P2
This offer is directed to companies, all prices are net, per employee, monthly.
OnPremise Hardware
Since 2007 we deliver WiFi hotspot solutions with bandwidth shaper as well as VPN servers for Windows clients. We want to use this competence further to equip your company with user friendly WiFi infrastructure for employees and visitors.
This hardware is tested for compatibility/stability with many Linux and BSD operating systems, suitable also for many open source projects.
As a Windows desktop solution for office or home office a MiniPC is used, with space saving table mount for 2 monitors, 22" - 27".
Firewall Hardware
If you want to realize open source firewall solutions we offer router hardware with 3-8 network cards, 1 Gbit or 10 Gbit.
Many of our customers use this hardware to realize firewall security solution, VPN or radius server with captive portal.
The hardware we offer is tested for compatibility and TCP throughput after standard installation with the following operating systems:
pfSense
,
OPNsense
,
IPfire
,
ClearOS
and
RouterOS
. Further information for open source firewall comparison with TCP throughput
VPN & Firewall Hardware
.
Firewall Hardware - Advantages
Powerful firewall hardware with latest motherboards/CPU and minimal power consumption

Selected hardware, with proven components for compatibility/stability with many Linux and BSD operating systems

Modular design with easily replaceable components, such as standard DDR4 memory, SATA interface, PCIe network cards

Hardware configurator for: CPU, RAM, SSD hard disk, network cards with prices also for components

Reduced prices for resellers and other buyers from 3 devices
Standard Firewall hardware is available as mini-PC (aluminum case) and rack version 19inch 1U, see images.
Before you order the hardware, you have the possibility to
configure
it with more: RAM, CPU, hard drives, network cards, etc. For your questions, for compatibility/performance, or for a individual PDF quote
write us
.
WiFi Hotspot - Accesspoints, Bridge
This offer is only for business customers who install and connect devices themselves. You will receive telephone or remote support for this.
If WiFi infrastructure is not available, we can estimate WiFi coverage together well, without a costly on-site measurement. Each building has its own characteristics, but for a rough planning you can take into account that for houses with a lot of concrete... Further information:
WiFi solutions for business
.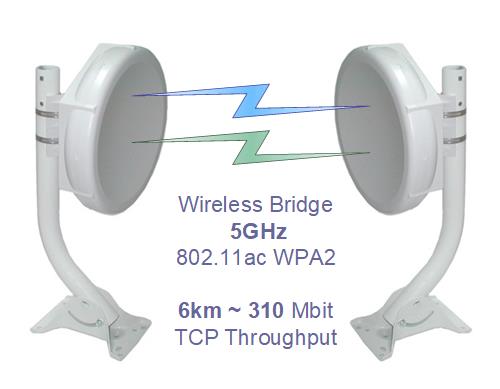 Quelle: Sylbek 2016
Outdoor wireless Bridge - Dual SSID
MiniPC for Homeoffice
This miniPC with dual monitors and a matching bracket looks tidy and is about the same cost as one 14"/15" laptop alone, with the same performance. There are other advantages


Costs more digital work space with approximately the same acquisition costs, further cost advantages when replacing components

Longevity component design, easy upgrade or replacement of monitor, hard drive, mainboard, CPU, fan in the event of a defect

Space-saving MiniPC (with dimensions 215x200x55 mm) does not take up its own work surface, optimal cleanliness / cable management with monitor holder above the desk

Comfort can be adjusted in height, distance, inclination, MiniPC with optimal cooling, hardly any noise, better integration with normal keyboard

You can
configure
this MiniPC with more memory, hard disk or CPU power before shipping...Further information:
Digital Workplace - Hardware
.