Microsoft 365 plans for Business and Enterprise
I do not know which plan is the best for my company's business, I also find the terminology complicated. If you also feel the same (as many others), you will find answers with us.
Microsoft 365 and Office 365 difference
The successful Office 365 product is constantly being expanded with additional services and gradually renamed to Microsoft 365 such as:
There are Microsoft 365 Business plans for companies up to 300 employees, and Microsoft 365 Enterprise plans, for larger companies, with no limit on the number of users. For Enterprise plans, there is still Office 365 plans as:
Office 365 E1
,
Office 365 E3
and
Office 365 E5
.
An overview of tariffs and prices can be found via Microsoft websites, however we hear from many customers that it is not easy to choose the right Microsoft 365 plan. There are many combinations, Add-Ons and sometimes plan names appear very similar.
For a logical explanation of how Microsoft 365 and Office 365 plans are put together, see our blog post:
.
Microsoft 365 plans overview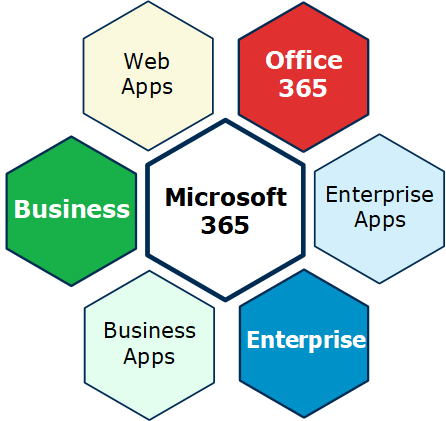 Source: Sylbek 2022
Microsoft 365 Business
The category Microsoft 365 Business is a collection of tools for business productivity and collaboration, such as Outlook, Word, Excel, and other Office products, that are always up to date. You can protect your work files on all your iOS, Android, and Windows 10 devices with enterprise-grade security that is simple to manage.
Microsoft 365 Business is meant for up to 300 licenses. If you need more licenses, then see:
Office 365 Enterprise
or
Microsoft 365 Enterprise
.
For nonprofits organisations, Business Plans are available with the same features but at reduced prices, only approx. 30 % is payable, Microsoft 365 Business Basic is free of charge.
Microsoft 365 Business Premium
Microsoft 365 Business Premium offers extensive services for the management and security of data from your users and devices (Windows, MacOS, Android and iOS) through AzureAD and Endpoint Manager.
Office 365 Advanced Threat Protection protects against spam, malware and known threats in email, teams, SharePoint and OneDrive.
Azure Virtual Desktops (AVD)
is an Azure VM preinstalled with Office 365, to which several users can connect at the same time, ideal for working from (home) office with usual company software and data.
Microsoft 365 and Office 365 Enterprise
If your company has more than 300 employees, then Microsoft 365 Enterprise E3/E5 or Office 365 Enterprise E1/E3/E5 are suitable for you.
Even if your company has fewer than 300 employees, enterprise plans can offer functionality that is not included in business plans, e.g. Litigation Hold, Data Loss Prevention (DLP), Office Apps on RDS Server, Windows 10/11 Enterprise, Teams Phone System and more.

In order to clarify the difference between Microsoft 365 Enterprise and Office 365 Enterprise, Microsoft 365 E3 includes: Office 365 E3, Windows 10/11 Enterprise E3 und Enterprise Mobility + Security E3. The same applies to Microsoft 365 E5 and Office 365 E5 accordingly.


Free testing and support
We can create a test tenant for your company (max. 20 users) for Microsoft 365 Business Premium or Microsoft 365 E5 Enterprise for a maximum duration of 90 days. We can actively support you so that customer-specific configurations can be adopted for productive operation after the evaluation.

When you engage our support, you get cost-effective assistance for tasks involved in initial setup, rollout, new features, and more.
For the permanent tasks related to the security of data, users and devices, you will be looked after by security experts and kept up to date with the latest technology.


Write to us,
you can expect an answer on the same or next working day.


Customer consulting
To find out which licence is best for your company and fits your budget, arrange an online meeting with us via
Microsoft Teams
.
The specifics of your existing network will be discussed and taken into account for a possible migration of users and data.
Customer support
For your Office 365 or Microsoft 365 tenant (new or existing), you can count on our support at fair prices. We can use your ticket system or our support
Jira ServiceDesk
, see
Exemplar ticket
.
Microsoft competencies
You will be supported by security experts, for which knowledge is constantly gained and proven by manufacturer certificates. This is a MUST for us to keep out customer support at the highest level and up to date.