WiFi solutions for business
Since 2006 we offer WLAN hotspot solution consisting of hardware and software like: Hotspot Server with configurable login page, Multi-SSID AccessPoints, wireless outdoor Bridges.
<
WiFi Hotspot Server
Hotspot-Server is offered pre-configured with integrated firewall, bandwidth management and VPN server.

Access points can also be delivered, which are also pre-configured with multi-SSID and VLANs. Since we do not provide on-site installation, this offer is only for business customers who want to install and connect the devices themselves. You will receive telephone or remote support. This way you can save external installation costs.


WLAN solution - indoor
As shown in drawing 1, a network with multiple networks (Multi-SSID) can be delivered pre-configured. For example, you can specify the number of networks SSIDs, their names, etc.

If WLAN infrastructure is not available, we can well estimate WLAN coverage together. If necessary, we can carry out a punctual measurement, without a costly measurement on site.
Each building has its own characteristics, but for a general planning you can take into account that in houses with a lot of cement and a length of corridor of about 10m experience shows that usually 2 AccessPoints per level are needed, at about 15m 3 pieces and so on.

For example, your network consists of 2 SSID's: Public network for visitors who will not get access to your internal LAN network. Private network is meant for your employees with mobile devices to get access to your internal network like other LAN wired devices.


This separation is realized via VLAN on the manageable switch or even easier with Hotspot-Server offered by us.

Access points transmit in 5Ghz as well as in 2.4Ghz, client software (laptop, tablet, smartphone) decides itself with which frequency to connect. Such a network with a total of 9 access points can be extended block by block with wireless bridges as shown in drawings 3 and 4.


Outdoor Access points
For WLAN coverage of outdoor areas such as town halls, golf fields, stadiums and the like, Autdoor AccessPoints are used. Since hardly any cable can be laid outdoors, access points are configured as repeaters that connect with each other in 5GHz.
Even to repeater can be connected to another repeater, like: Repeater_01, 03, 07, 09, see drawing 2. Connecting repeater to repeater is a compromise approach, since bandwidth is approximately halved.


Outdoor wireless bridge, wireless set, preconfigured
Both bridges are delivered fully assembled and pre-configured, so that anyone can connect 2 networks together.

The configuration has been optimized for a distance of up to 3km or 6km. For this distance bandwidths of over 310 Mbit net can be achieved. Brackets for professional mounting on wall, ceiling or floor can be included (as shown in drawing 4).


Hotspot-Server with multi SSID Access points
Drawing 1, Source: Sylbek 2015
Outdoor DualSSID access points & repeaters, ca. 800x800m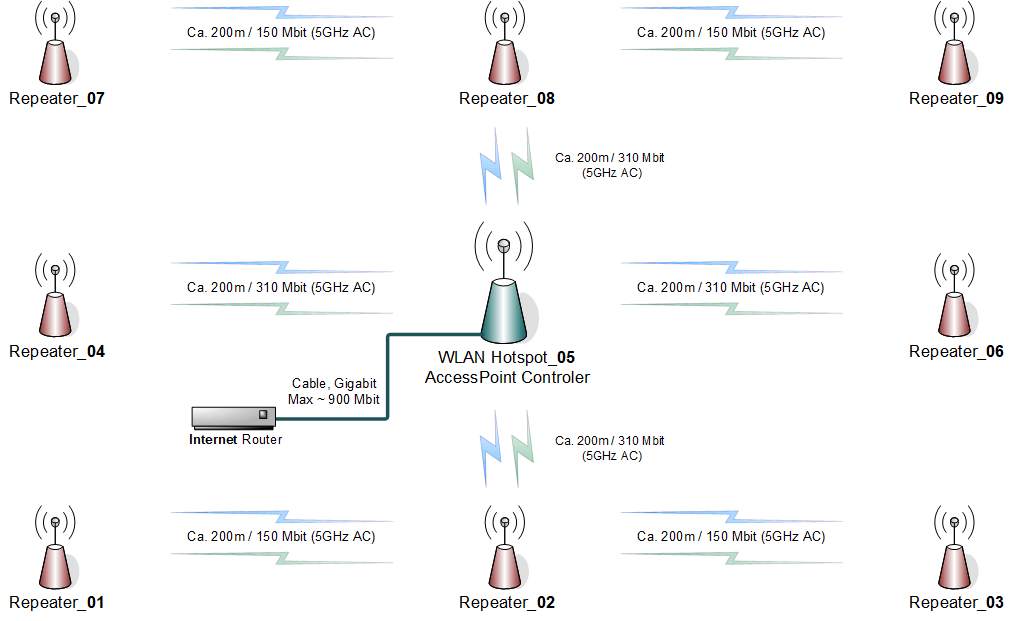 Drawing 2, Source: Sylbek 2017
outdoor wireless Bridge, set of 2
Drawing 3, Source: Sylbek 2016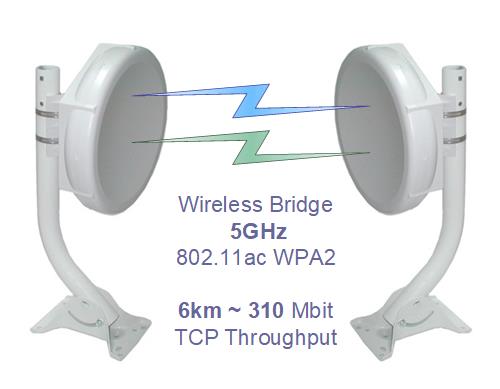 Drawing 4, Source: Sylbek 2016
☏ +49 721 66980 610
Write to us,
you can expect an answer on the same or next working day.


Customer consulting
To find out which licence is best for your company and fits your budget, arrange an online meeting with us via
Microsoft Teams
.
The specifics of your existing network will be discussed and taken into account for a possible migration of users and data.
Customer support
For your Office 365 or Microsoft 365 tenant (new or existing), you can count on our support at fair prices. We can use your ticket system or our support
Jira ServiceDesk
, see
Exemplar ticket
.
Microsoft competencies
You will be supported by security experts, for which knowledge is constantly gained and proven by manufacturer certificates. This is a MUST for us to keep out customer support at the highest level and up to date.