WiFi solutions for business - wireless hotspot, access points, bridges
Short description of this page
WiFi hotspot solution consisting of hardware and software such as hotspot server with configurable login page, multi-SSID access points, wireless outdoor bridges. Adapted to the needs of employees and visitors.
For over 10 years we have delivered preconfigured WiFi hotspots with bandwidth management and VPN servers for Windows clients with Linux RouterOS.
We want to continue to use this competence to equip your company with a user-friendly WiFi infrastructure for employees and visitors.
Since we do not carry out on-site installation, this offer is only aimed at business customers who assemble and connect the devices themselves. You will receive telephone or remote support for this.
If WiFi infrastructure is not available, we can estimate WiFi coverage together without a complex on-site measurement. Every building has its special features, but for a rough planning you can take into account that for houses with a lot of concrete and a corridor length of approx. 10m, experience has shown that usually 2 access points per level, with approx. 15m 3 pieces etc. are required.
As you can see in the picture below, a network with several networks (SSID) can be configured. You determine the SSID or network name yourself. We can optionally preconfigure it during installation.
E.g. Your network consists of 2 SSIDs: Public network for visitors who do not have access to your internal LAN network. Private network means that your employees can access your network with mobile devices like other wired LAN devices. The management controller (WLAN-Hotspot) can be offered optionally, with which you can centrally manage and monitor all access points. The same goal can be achieved if you set appropriate VLANs in your manageable switch.
WiFi Hotspot Server with multi SSID access points
Source: Sylbek 2015
Ideally, you rely on our support for cloud products, then WLAN configuration for Windows 10, Android, iOS devices can be distributed with Microsoft Endpoint Manager.
Autdoor access points are used for outdoor areas such as town hall square, golf course, stadium and the like. Since hardly any cables can be laid outdoors, access points are configured as repeaters that connect with each other in 5GHz.
Another repeater can even be connected to the repeater, such as: Repeater_01, 03, 07, 09, see picture below. Connecting repeater to repeater is a compromise solution, since bandwidth is roughly halved.
Outdoor dualSSID access point & repeater, ca. 800x800m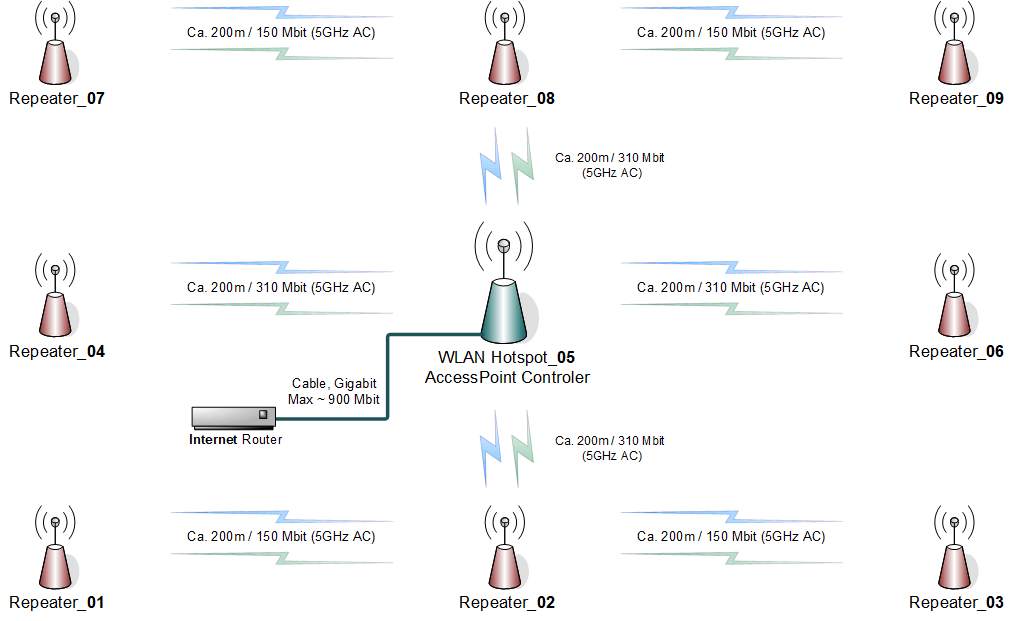 Source: Sylbek 2017
Access points radiate in both 5Ghz and 2.4Ghz, client software (laptop, tablet, smartphone) itself decides with which frequency it connects.
Such a network with a total of 9 devices can be expanded in blocks with wireless bridges as shown in the picture below.
Outdoor wireless bridge set, preconfigured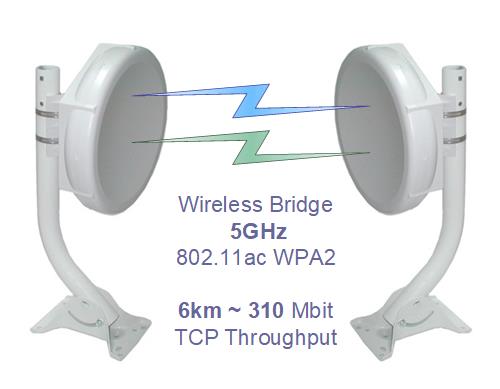 Quelle: Sylbek 2016
Both bridges are delivered fully assembled and configured so that anyone can connect 2 networks with each other. The configuration has been optimized for a distance of up to 3km or 6km. For this distance, bandwidths of over 310 Mbit net can be achieved. Brackets for professional mounting on the wall, ceiling or floor can be included (as seen in the picture on the right).
For your questions or for an individual PDF offer
write us
.

Looking for more productivity and independence from classic LAN networks ?
From 3.81 EUR / mth.
Microsoft 365 Business Basic includes Office 365 web-apps: Word, Excel, Outlook, PowerPoint, OneNote, as well as Exchange, Teams, SharePoint, OneDrive 1 TB
From 15.35 EUR / mth.
Microsoft 365 Business Premium includes
Microsoft 365 Business Standard
and additionally: Windows10 Business, WVD, AzureAD P1, Intune, Office 365 DLP and ATP
From 6.09 EUR / mth.
Office 365 E1 includes
Microsoft 365 Business Basic
and is for more than 300 users, more functionality in Microsoft Stream and video recording
From 17.89 EUR / mth.
Office 365 E3 includes
Office 365 E1
and additionally: Desktop Apps (offline) and Exchange P2, SharePoint P2 and OneDrive P2 with 5 TB
From 0 EUR / h
Microsoft Office 365 - free consulting for needed Licenses, cost savings, possible migration. Support via email or Jira
ServiceDesk
ticket system