Short description of this page.
Although OPNsense can be virtualized like an ordinary operating system, a `real firewall´ should always run on physical hardware, as network performance makes the difference. See below our hardware recommendation for OPNsense.
OPNsense is an open source, FreeBSD based firewall and routing platform. It includes most of the features available in expensive commercial firewalls. OPNsense is a fork of the well-known open source firewall pfSense which split off in 2015 due to licensing disagreements.
The development is free and open, based on the BSD license, that allows everyone to use, modify, close, and commercially distribute.
OPNsense is FreeBSD-based firewall and routing software developed by Deciso, a Dutch company. The distribution is very popular in Europe and widespread.
OPNsense hardware - requirements
Minimum, not officially
CPU: 1 GHz
RAM: 1 GB
Hard disk: 40 GB
Network: 2x Ethernet
OPNsense hardware - recommended
Our recommendation from 2021
CPU: 1.5 GHz multi core, 64-bit
RAM: 4 GB
Hard disk: 120 GB SSD
Network: 3x Gigabit Ethernet
The hardware we offer is tested for compatibility with OPNsense, as shown below. The table below shows the throughput values with associated CPU and network adapters measured after the default installation.
Hardware compatibility test & Throughput mit OPNsense 21.1
Firewall Hardware Appliance with Intel CPU J1005 4x1.5GHz, (Option: J4125) AES-NI, as 19 inch 1U or full aluminium chassis for your firewall & VPN OS, 3-5 GBit NICs
Test-Device
SBR234
CPU
Intel J4005
Network Gigabit
Intel 82576
Throughput
940 Mbit/s
With Intel powerful CPU G6400 2x4GHz (option on i3, i5, i7), 4GB DDR4 RAM (max 32GB), 120GB SSD SATA3 HDD, 19 inch 1U or full aluminum chassis, 3-5 GBit or 10Gbit network cards
Test-Device
SBR741
CPU
Intel G6400
Network 10Gbit
Intel X550-T2
Throughput
9.40 Gbit/s
Quad Xeon (E-2124 4x3.3 GHz) firewall Hardware Aappliance, 19inch 1U Rack Version, 6 Intel Gigabit NICs, 4GB DDR4 ECC RAM (max 32GB)
Test-Device
SBR706
CPU
Intel E3-1220V6
Network 10Gbit
Intel X550-T2
Throughput
9.40 Gbit/s
ℹ
The high performance
Azure VPN Solution
offers 128 128 P2S tunnels for Windows 10 and another 10 S2S tunnels to your company locations at up to 100 MBit/s at a price of only 22 EUR/month
OPNsense can be installed on any compatible hardware, if desired we install the software before delivery. Optionally we also install
IPfire
,
ClearOS
and
RouterOS
in addition to OPNsense. We are not allowed to install pfSense for customers, this is reserved for pfSense partners only. Customer is of course allowed to install pfSense by himself.
By default firewall hardware is available as mini desktop aluminium case and rack version 19 inch 1U, see pictures.
OPNsense Hardware - 19 inch 1U 483x250x44mm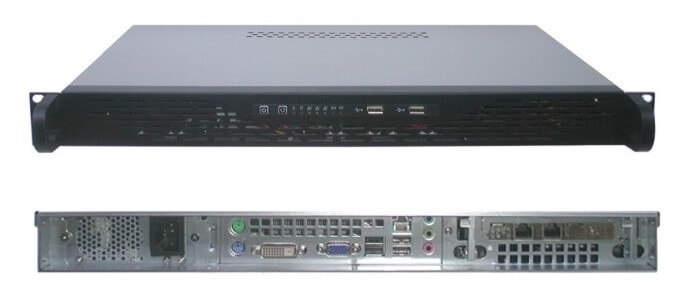 OPNsense Hardware - Mini-PC 211x254x86mm, aluminium case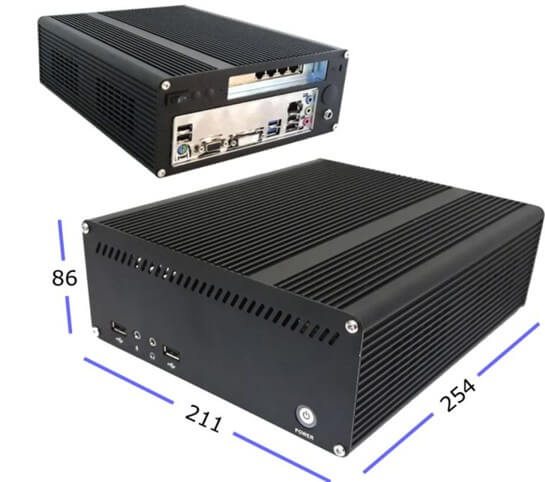 Before you order the hardware, you can
configure
it with more: RAM, CPU, hard disks, network adapters etc. For your questions, for an individual PDF offer
write us
.