M365 licenses & Support
Microsoft licenses look 'complex' at first look, but offer very many plans and adds-on, so that are highly customizable to your company need.
The most we can do for you in a few hours of consulting, ist to save permanently m365 costs, through license optimization. It is only possible after a consultation, when it becomes clear what the current and future needs are for your company. Since there is no general recommendations we can give, therefore as orientation below example solutions.
Reduce operating and licensing costs
Customer details
Number of employees: 34

All employees have Windows 10 Pro and Office 365 E3 licences

Apps used: Outlook, Word, Excel, PowerPoint, Teams

Server in use: 1x domain controller, 1x Exchange server, 1x file server and print server

IT goals: Modernise infrastructure, increase security and reduce administration costs

Proposed solution
(simplified)
Licences change from Office 365 E3 (Microsoft price: 25.10 EUR) to Microsoft 365 Business Premium for 19.09 EUR

Provide other services, including SharePoint and OneDrive, device management and protection, Exchange Online and email protection

Migrate users and data to Microsoft Cloud, then shut down AD, exchange and file servers

Achieved goals: Planable migration costs, reduce fixed administration costs, through our support increase security and protection of devices, users and data

Migration of users and data
Customer details
Number of employees: 130 in 3 locations

Employees mainly use Windows 10 Pro and Google Workspace

Google Apps used: Mail, Docs, Sheets, Slides, Meet, G-Drive

Server in use: 3x domain controller, 3x Windows 2016 as RDS server, 3x file server and print server, 1x VPN server...

IT goals: Migrate on-premises infrastructure to the Microsoft Cloud and reduce costs in the long term

Proposed solution
(simplified)
Microsoft licenses selection: Office 365 E1 plus Windows 10 E3 for 14.43 EUR or M365 Business Premium for 18.58 EUR

Migration: AD to AzureAD, emails from Gmail to Exchange-Online, G-Drive to SharePoint and OneDrive, etc.

Set up Windows Azure Desktop (eventually with Azure Storage) and install applications from RDS Server.

Shut down AD, RDS, and file servers after migration and terminate Google Workplace

Achieved goals: Significantly reduced costs for on-premises infrastructure, better integrability of Windows 10 clients with Microsoft cloud infrastructure.

Goals of our cooperation
By working with us, the following business goals can be achieved:
The leadership of the company would like to see an increase in productivity, reduce costs, secure investment and competitive improvements

The IT department strives for a stable, secure and maintainable IT infrastructure

Employees want a modern and flexible working environment in terms of working hours and location
How this can look for your company is shown in the below drawing "Better security, cost and flexibility with Cloud-Only". Employees work location-independently and everywhere with the same software optimized for collaboration.
In company offices, there are no servers (anymore), just a router with an integrated firewall, without the need for a VPN and additional firewalls at the network level.
The high security requirements are realized on all clients and cloud apps. Clients do not exchange data directly with each other, but use cloud tools for collaboration. This client isolation is important should a client become infected with viruses.
Costs for Microsoft 365 licenses can be planned (usually about 50% lower) and are directly related to the number of employees. Licenses are not explicitly purchased for a specific employee, meaning they can be transferred to other employees at any time.
Licenses can be increased at any time or reduced at the end of the contract period. An employee is allowed to use one license on 5 devices (including private devices) at the same time.

The cloud apps, provide optimal communication and collaboration, e.g. through Teams phone system calls can also be made to external customers.
This location-independent way of working enhances mobile or home office working.

The employees, who usually work in the home office, do not need a fixed workplace in the office, but look for a free workplace.
In cases when all employees go to the office, then there are still conference rooms available, ideal for intensive exchange.

These space and workspace savings can even enhance team collaboration. In addition, employee productivity and satisfaction can be increased by the fact that cloud technology simplifies the way people work and increases flexibility in terms of location and working hours.

If there is a deficit of qualified IT staff, we can support you to solve your resource bottleneck permanently, so that your technician can do the rest.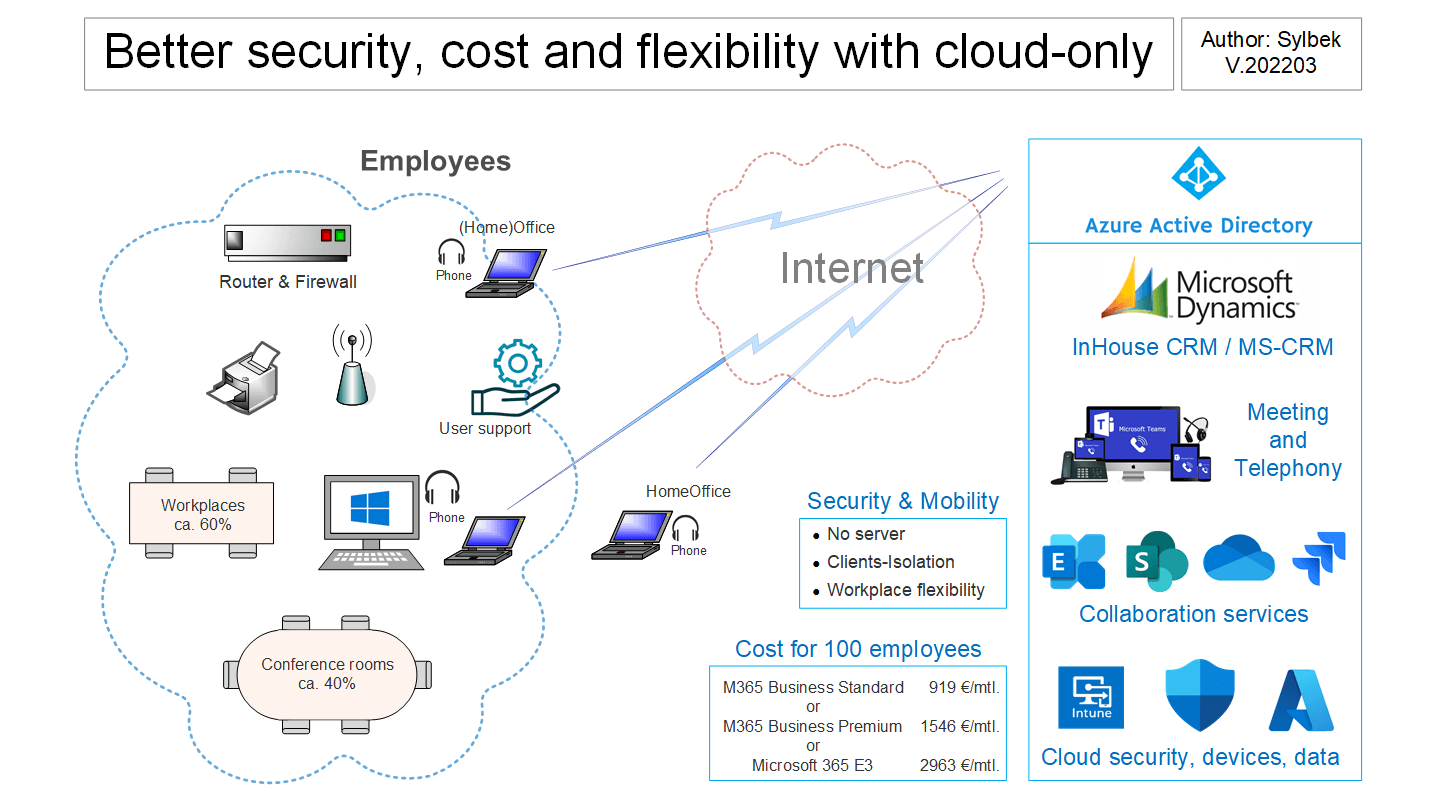 ☏ +49 721 66980 610
Write to us,
you can expect an answer on the same or next working day.


Get together and talk
We are happy if you (
right here
) choose a time and arrange a free online meeting via
Microsoft Teams
. For example, we could talk about how you can optimize your Microsoft licenses and reduce costs.
Customer support
We would be happy to support you in Microsoft 365 and Azure questions. You can count on our support at fair prices in range of 70-90 EUR per hour. We can use your ticket system or our support
Jira ServiceDesk
, see
Exemplar ticket
.
You will be supported by security experts who continuously upgrade their Microsoft competencies and prove them with manufacturer certificates. This is a MUST for us to keep customer support at the highest level and up to date with the latest technology.