Remote working and security
Since the home office employee network can no longer be secured, this means IT must focus on protecting users, devices and resources.
Home office work during Covid-19 and after
Many companies had to quickly set up VPN access due to Covid 19 so that work could be done from the home office. Some were better prepared and had already established 'the modern way of working' with Microsoft Office 365 or Google Workspace.
Even after the pandemic, about half of office workers still want the option of working from home. They appreciate this flexibility in terms of location and time.
The company leadership sees the benefits of this 'way of working' and wants to establish cost savings in office workplaces and therefore want to establish hybrid working and desk sharing.
Collaboration with Microsoft Teams
The use of collaboration tools such as Microsoft Teams enables productive work in the home office.
Microsoft Teams enables digital communication in digital team rooms, channels, chats, video telephony, documents, apps, etc. Members and guests (outside the company) can be invited to meetings and can also participate via browser.
══
══
Meetings can be optimized by sharing the screen, with notes and drawings in the digital whiteboard, meetings can be also recorded and transcribed.
Meeting via Microsoft Teams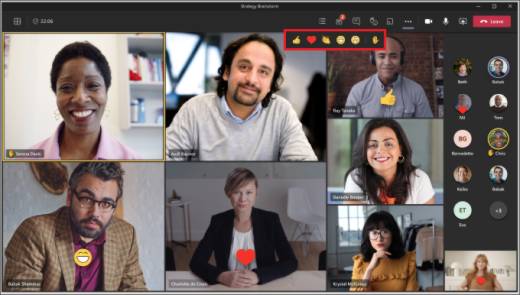 Source: support.microsoft.com
Same work tools and protection for office and home office
Apps on Azure Virtual Desktop (AVD)
Up to now, home office employees have mostly used virtual private networks (VPN) or remote desktop services (RDS) to access the internal network.
Connection quality and security of the VPN connection and the RDS server require an intense support. The costs are also enormous for VPN and RDS-Cals licenses alone.
AVD is deployed in Azure Cloud as a virtual machine (VM) and comes with Windows 10/11 Enterprise multi-session capabilities. License costs are already included in several Microsoft 365 subscriptions, including
Microsoft 365 Business Premium
.
AD and AzureAD are natively supported, so users can log in as usual with the same credentials as Microsoft 365. Office 365 applications are also installed by default.
Compared to the on-premises RDS server there are the following advantages:
Higher security, Microsoft Gateway (PaaS), open RDP port not necessary

Low cost, RDS CALs not required, Windows license included

Better flexibility so employees can connect from anywhere and any device via the web

Better compatibility with apps that do not run on server versions, since it is Windows 10/11

Better scalability, several VMs in the pool can be grouped together (cluster), e.g. Mon-Fri 3 VMs, on weekends only one VM

VPN is no longer necessary, MFA available...more information

Device management with Intune
Microsoft Intune is a fully cloud-based solution for managing devices and applications on Windows, macOS, Linux, smartphones and tablets (iOS and Android).
Intune enables administrators to enforce device security and compliance. Intune Autopilot enables automated setup of new Windows 10/11 devices, including apps, so users can get them up and running.
Since March 2023, Microsoft Intune is available in 3 versions:
Intune Plan 1
,
Intune Plan 2
and
Intune Suite
. Microsoft Intune P1 ist enthalten in
Microsoft 365 Business Premium
and
Mobility + Security E3
.
Devices and apps protection with Defender
Microsoft Defender for Endpoint is an advanced security solution designed specifically to protect endpoints such as PCs, laptops, servers, and mobile devices.
Formerly known as Microsoft Defender Advanced Threat Protection (ATP), is designed to protect organizations from a wide range of threats, including malware, viruses, ransomware, phishing attacks and other cyber threats.
Microsoft Defender is available in 3 versions:
Write to us,
you can expect an answer on the same or next working day.


Get together and talk
We are happy if you (
right here
) choose a time and arrange a free online meeting via
Microsoft Teams
. For example, we could talk about how you can optimize your Microsoft licenses and reduce costs.
Customer support
We would be happy to support you in Microsoft 365 and Azure questions. You can count on our support at fair prices in range of 70-90 EUR per hour. We can use your ticket system or our support
Jira ServiceDesk
, see
Exemplar ticket
.
You will be supported by security experts who continuously upgrade their Microsoft competencies and prove them with manufacturer certificates. This is a MUST for us to keep customer support at the highest level and up to date with the latest technology.