Microsoft Teams, SharePoint and OneDrive - Collaboration
Short description of this page.
Optimal collaboration in your company through Teams Chat and video telephony, storage of company data on SharePoint, personal data on OneDrive. All this available from 3.81 EUR.
Communication from home office with teams
COVID-19 has shown that many companies work just as productively in home offices as in a regular office. Microsoft Teams enables digital communication in digital team rooms, chats, video telephony, documents, apps and more.
Teams can be created to which people from inside or outside the company can be invited. Selected members can set up channels within a team. Channels are topics of conversation that allow team members to communicate without the use of email.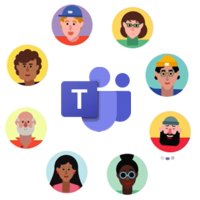 Source: Microsoft.com
Meeting via Microsoft Teams
Members and guests (outside the company) can be invited to meetings and can also participate via browser (administrator must set it accordingly). Meetings can be optimized by sharing the screen, with notes and drawings in the digital whiteboard, meetings can be recorded and transcribed.
Apps can be integrated into teams, such as Office applications, also external apps to complete other tasks.
SharePoint Online
With SharePoint Online, employees can easily create team and project-oriented websites without great technical expertise, share documents for colleagues, customers and partners and use them together.
The websites are often used for the company's intranet - a central location where employees can find company information. A corporate wiki website can be created and set so that only certain users can edit.
Team pages are the same pages that are also edited in the Teams app. It can be observed that the discussions and cooperation are increasingly shifting to Teams.
SharePoint is a powerful tool for storing and managing documents. An administrator can set group permissions so that only specific groups can change certain documents, some others can only read etc. Documents can be edited using both browser and Windows Explorer, see picture below.
Source: Sylbek 2020
Share OneDrive and SharePoint documents via Explorer
OneDrive for Business - personal storage
OneDrive is technically a part of SharePoint for personal data. Therefore, as with SharePoint, employees can save and share company data, also externally by default. In this case, an administrator possibly should restrict the settings before use.
OneDrive is already integrated in Windows 10, and you can connect to cloud storage by entering credentials. Accessing documents via Windows Explorer (see picture above) enables you to work offline. Data is stored locally until the Internet is available, then it is synchronized with cloud storage.
Teams, SharePoint und OneDrive costs
Teams, SharePoint and OneDrive are available in almost all tariffs, see 3 examples below.
MS.Preis: 5.10 € Our price from
4.27
€
MS.Preis: 8.40 € Our price from
7.11
€
Office 365 E1 includes
Microsoft 365 Business Basic
and is for more than 300 users, more functionality in Microsoft Stream and video recording
MS.Preis: 22.60 € Our price from
18.90
€
Note our
Microsoft Office 365 prices
. You can buy licenses up to 15 % cheaper, with a minimum contract period of 1 month. This offer is directed to companies only.
?
I do not know which plan is the best for my company's business, I also find the terminology complicated. If you also feel the same as many others, then
write us
or see:
For Microsoft 365 Business Basic and Office 365 E1, SharePoint and OneDrive are in Plan 1 version, that means OneDrive is 1 TB, SharePoint 1 TB + with each user there is an additional 10 GB. For Office 365 E3, SharePoint and OneDrive are available as plan 2 version, so the size for OneDrive can be increased to 5 TB via Powershell and to 25 TB via Microsoft's technical support.
For your questions schedule an appointment with us via
Microsoft Teams
. For customer support we use
Jira ServiceDesk
, see an
example ticket
. You are welcome to call or write us using
Contact
.